Advantages of natural ventilation of underground garages and parking garages: A case study with the ventilation hood D40 by rotec
The ventilation of underground garages and parking garages is a decisive factor for the safety and comfort of users. In addition to mechanical systems, natural ventilation has established itself as an efficient and economical alternative. This blog article discusses the advantages of natural ventilation of underground garages, presenting rotec's D40 ventilation hood in the context of a real project.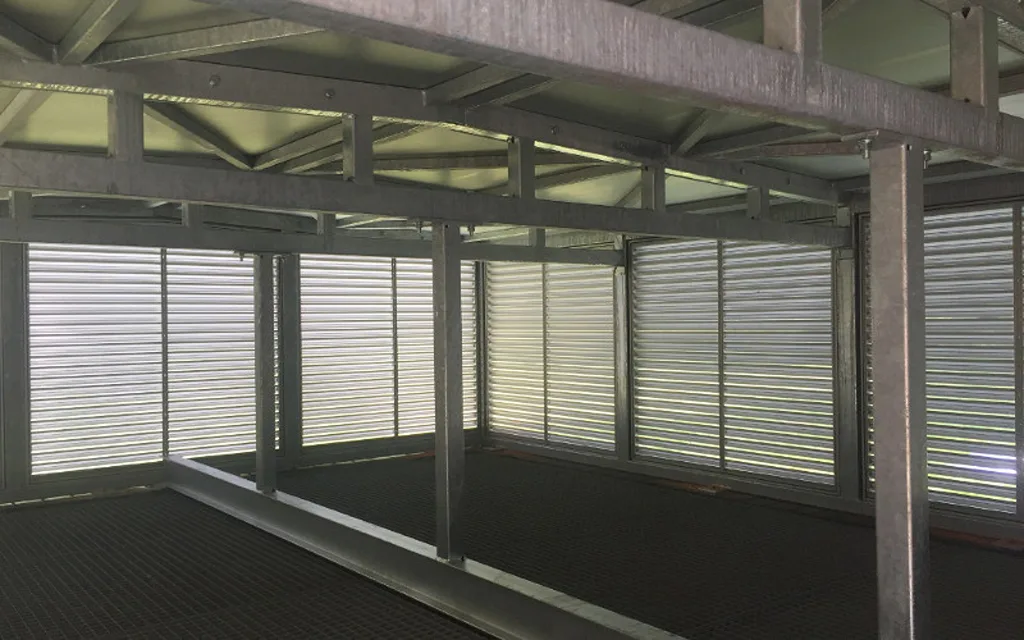 Problem: An office complex in Hamburg
For an office complex in the north of Hamburg, a weather-optimized solution was sought for an existing ventilation system. Previously, the system was supplied with fresh air via a ventilation shaft sunk into the ground, while the exhaust air was discharged above it. However, rain and snow fell through the horizontally laid gratings, which made a structural improvement necessary.
The solution: ventilation hood D40 from rotec
In response to the challenges, a D40 ventilation hood / roof hood with steel substructure was used as a custom design. This hood has several advantages:
Light material
The aluminum used for the ventilation grilles and the roof allows for manual assembly and is corrosion resistant, ensuring a long-term, high-quality and functional construction. The substructure consists of a hot-dip galvanized steel structure.
Optical adaptability
The sleek and slim look of the D40 ventilation hood blends seamlessly into modern environments, giving architects plenty of design freedom.
Curved roof construction
The cambered design of the roof simply drains rainwater to the side, while the side air intake ensures the functionality of the ventilation system below even in heavy leaf or snowfall.
Safety and cost savings
The ventilation hood prevents a crash and requires less maintenance, which leads to a reduction in running costs in the long term.
Why natural ventilation?
Natural ventilation systems are not only environmentally friendly, but also cost-efficient. They reduce energy consumption and maintenance costs and are often easier to install than mechanical systems. In combination with rotec's D40 ventilation hood, an optimal ventilation concept is created that balances safety, functionality and aesthetics.
Conclusion
The D40 ventilation hood from rotec offers a robust and flexible solution for the natural ventilation of underground garages and parking garages. Its sophisticated design and the use of high-quality materials make it a long-term, cost-efficient and safe option for modern construction projects.
SHIPPING - YOUR PROJECT, OUR REALIZATION
rotec ventilation hoods for natural ventilation of underground garages and parking garages are in use all over Europe today. We deliver louvre walls, facade enclosures, roof hoods, smoke extraction hoods and ventilation grilles to the greater Munich, Hamburg, Frankfurt, Leipzig, Cologne, Dortmund, Saarbrücken and Stuttgart areas on a weekly basis.