Rotec technical enclosure in Hamburg with Renson lamella L.120.01, the ideal solution for air conditioning enclosures
The requirements for modern air conditioning unit enclosures are diverse. In addition to the aesthetic component, technical factors such as span width, material resistance and ease of installation also play a decisive role. In a completed project in Hamburg on Anckelmannstraße, Rotec was able to master these challenges with aplomb. The key role was played by the L.120.01 louvre blade from Renson, one of our long-standing premium partners.
The challenge
The special feature of this project was the requirement to find louvers that allow a free span of up to 2000 mm. This is particularly demanding, as most louvers are not designed for such large spans. However, this requirement was optimally met with the Renson L.120.01 slat.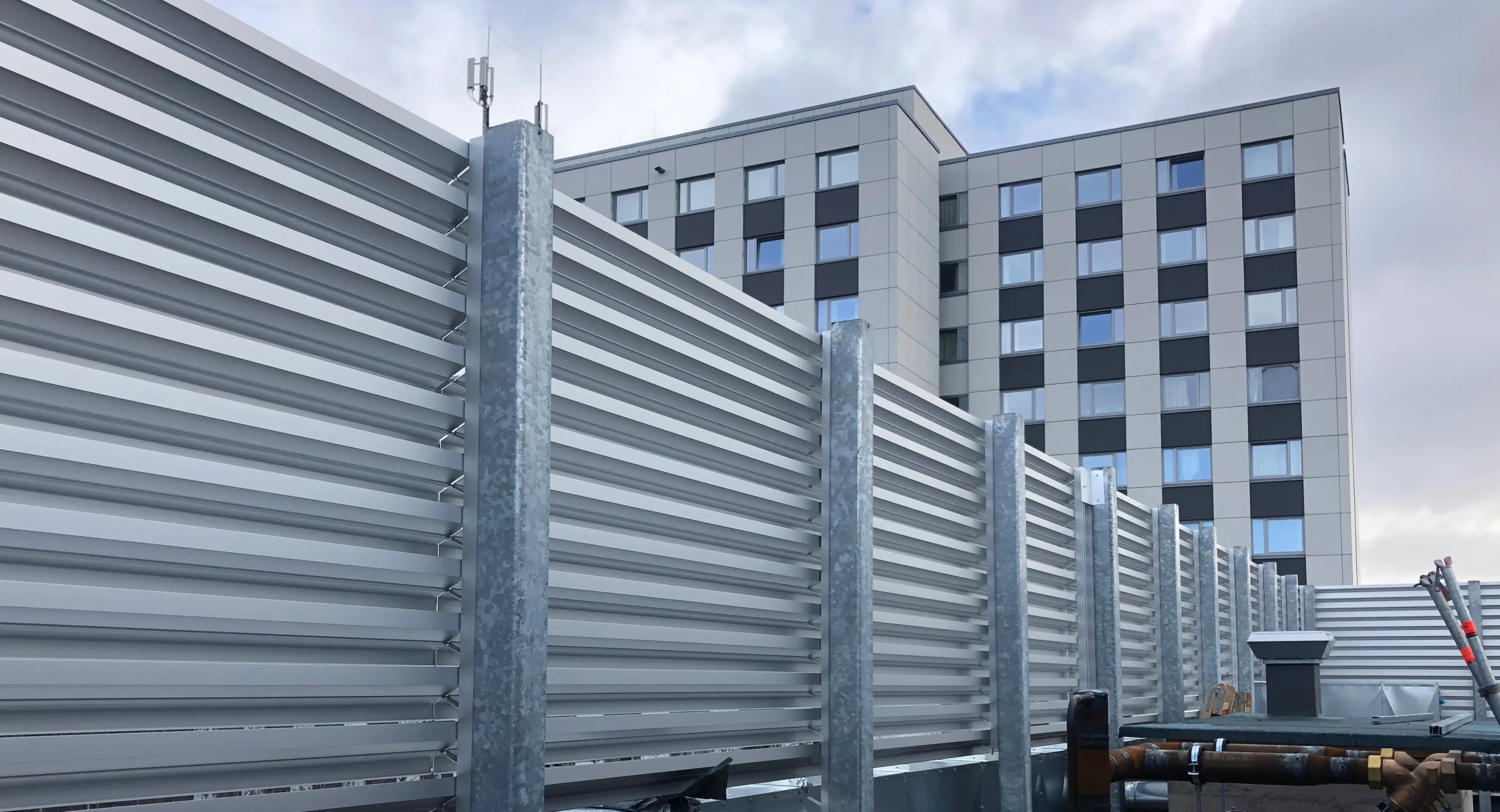 Features of Renson slat L.120.01
The LINIUS® L.120 louvre wall system from Renson consists of extruded aluminum profiles ALMgSi0.5, a material characterized by high strength and corrosion resistance. The Z-shaped ventilation louvers also offer excellent weather protection properties and are designed for large free spans.
Surface finishes are specified specifically to the architect's specifications, ensuring a seamless transition to the surrounding architecture.
Simple assembly
Another highlight of the system is the clip mounting. The slats are simply clipped into the slat holders belonging to the system. This guarantees the linear course of the slats and makes installation much easier.
Quality assurance according to DIN EN 9001
At Rotec, we attach great importance to quality. That is why we are certified according to DIN EN ISO 9001:2015. This certification ensures that all processes, from planning to execution, meet the highest quality standards. The combination of our quality management and the high-quality products from Renson enables us to achieve first-class results every time, even in complex projects like this one.
Conclusion
The Renson L.120.01 louvre proved to be the ideal solution for the special requirements of the project in Hamburg. Thanks to the combination of high-quality materials, sophisticated design and simple installation, we were also able to master this challenge. The certification according to DIN EN ISO 9001:2015 underlines our claim to always deliver the highest quality.
SHIPPING - Your project, our realization
rotec's air conditioning unit enclosures are now in use throughout Europe. We deliver louvre walls, facade enclosures, roof hoods, smoke extraction hoods and ventilation grilles for shaft smoke extraction to cities such as Munich, Hamburg, Frankfurt, Leipzig, Cologne, Dortmund, Saarbrücken and Stuttgart on a weekly basis.