Sun protection slats Sunclips: Innovative protection from the high summer sun
When it comes to providing modern sun protection without sacrificing aesthetics and functionality, Renson Sunclips® sun protection slats are second to none. Manufactured by one of the leaders in solar shading, Sunclips® combine innovative technology with elegant design.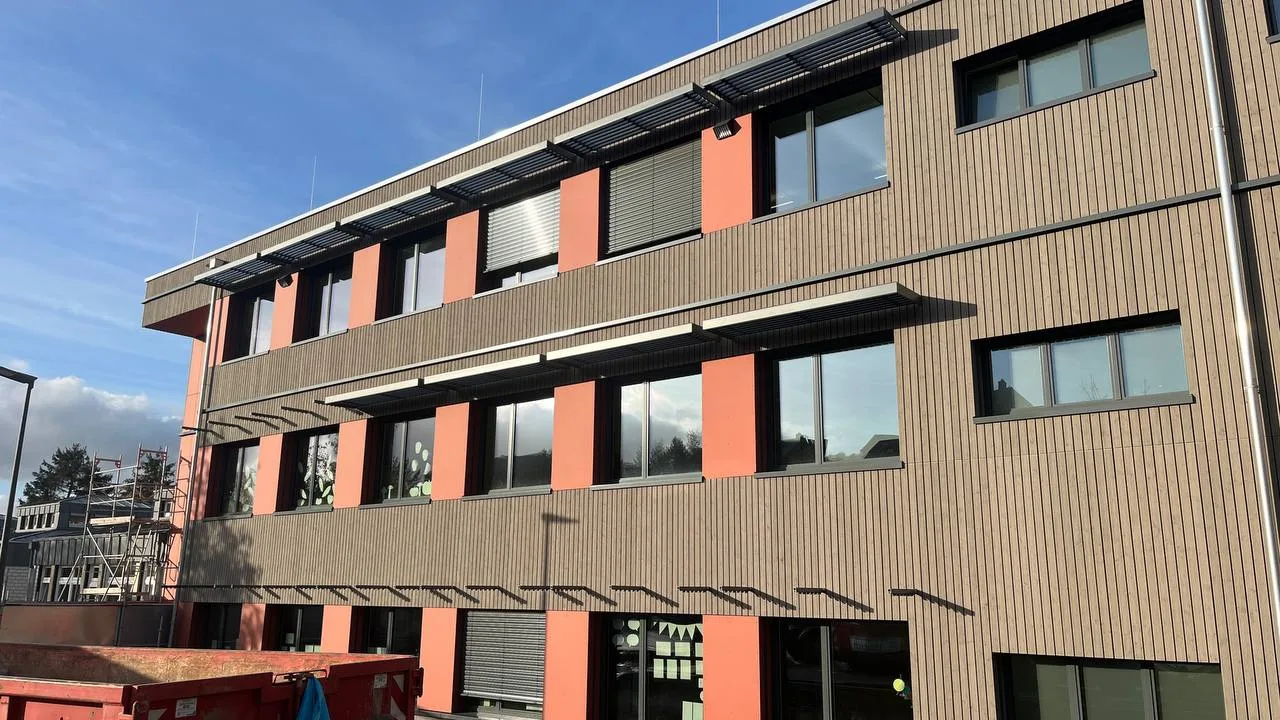 The advantages of Sunclips slats
What makes Sunclips so special? It is the ideal protection from the high summer sun, which at the same time does not interfere with the view outside. In winter, when the sun is lower, you can easily enjoy the warming rays without the sunscreen getting in the way. The flexibility of Sunclips lies in its orientation: it is essential to correctly match the projection to the orientation of the facade and the height of the window to achieve optimal results. 
When it comes to variety, Sunclips® also scores. While Sunclips Classic SC.096 stands for a minimalist design, Sunclips® EVO offers an aerodynamic alternative. And with three different dimensions (SE.096, SE.130 and SE.176), you are able to choose exactly the right sunshade for your project.
A look at the technical details
installed by rotec Berlin lamella type Renson Sunclips EVO SE.096 represents a structural solar protection, which is composed of various sections of extruded aluminum ALMgSi0.5. But it is not only about the material itself, but also about the processing. The surface treatment, specified by the architect, gives the slats an attractive appearance that blends harmoniously with any modern architecture.
The system is complemented by support profiles with mounting brackets that support the C-shaped sunshade slats. And as far as mounting is concerned, special emphasis was placed here on a simple and discreet method: clip mounting. The slats are attached to the corresponding slat holders with the aid of clips. A decorative profile serves as a visual finish to the cantilevered sunshade element and gives the whole thing a rounded look.
Planning, fabrication and assembly by rotec Berlin
Trust in quality and experience - rotec Berlin is your premium partner for the fabrication and installation of Sunclips louvers. With 35 years of experience and an eye for detail, rotec Berlin guarantees not only a smooth installation, but also a result that convinces in terms of appearance and function. So if you're looking for sun protection that is both effective and aesthetically pleasing, Sunclips louvers are the perfect choice. Let rotec Berlin advise you and enjoy the comfort and elegance of Sunclips.
Shipping and assembly
The rotec Sunclips sun protection system is in use throughout Europe and has proven itself many times over. rotec delivers sun protection louvers, roof hoods, smoke extraction hoods and ventilation louvers, weather protection louvers and aluminum louvered facades to the greater Munich, Hamburg, Frankfurt, Leipzig, Cologne, Dortmund, Saarbrücken and Stuttgart areas on a weekly basis.
For more information on this topic, please visit: www.wetterschutzgitter.com